Dive excursions
Rarotonga offers a great destination for those who wish to mix good diving with a relaxed, south seas vacation. Isolated by thousands of square miles of ocean, Rarotonga's fringing reef is washed by the clean, clear waters of the South Pacific.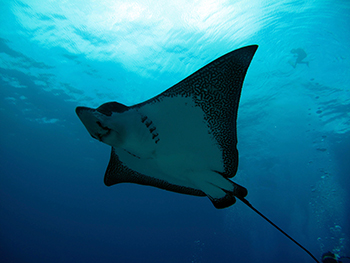 About our reef
The reef is characterised by a gently sloping plateau out to about 30m / 100ft, where the reef steepens and 'drops off' into the abyss. There is a variety of terrain and fish life at different parts of the reef and with over 30 dive sites there are plenty of options to keep you interested.
The south side of the island is characterised by a shallow lagoon which empties to the ocean by passages or passes. These passages offer exciting canyon like dives with sharks, rays and turtles often present. Access to these is only by boat and we dive them from the outside of the reef.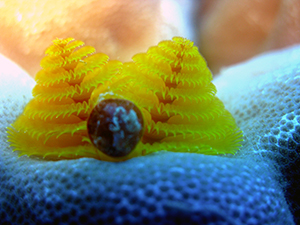 The north coast of the island has the most coral cover with huge Porites bommies mushrooming up and forming overhangs and gullies. Turtles, Napoleon Wrasse and the myriad of reef dwellers can be easily approached on this coast offering great interactions and opportunities for photography.
There are a few wide sandy runoffs located on the northern side of the island, a favourite resting place of white tip reef sharks. The drop off is also accessible and looking from 30m / 100ft to depths of over 80m / 250ft can make your heart flutter.
The east and west coasts are typically steeper with boulder like terrain sloping out to the drop off.
When we operate
With all coasts being accessible we are able to operate in almost any weather. Our cancellations due to weather are few and far between and if you come to dive, then we'll get you there!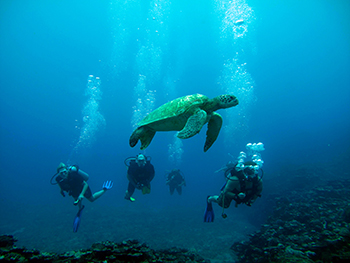 We operate dive excursions everyday starting at 830am Monday to Saturday and 1230pm on Sunday. You can either do one or two dives on these excursions and they are trips for certified divers only. Monday to Saturday afternoons are used primarily for training dives (Open water and discover scuba) and are at shallower sites than the morning trips. Certified divers are welcome as well and these sites give good opportunities for photography.
Quick reference guide
When we operate
Excursions for certified divers only, 1 or 2 dives, Monday to Saturday 830am to 1pm, Sunday 1230pm to 5pm.
What to bring
Swimsuit and towel, sunhat, sunscreen and warm top if appropriate. Any personal dive gear you wish to use.
What we provide (included in our standard rates)
All equipment hire.*
Light refreshments between dives.
Key points
Minimum of 2 staff on every trip, 1 dive leader and 1 boat operator.
Boats always manned
Boat has full sun canopy and twin walk up dive divers with hand rails.
Our staff handle and carry all equipment.
Unlimited dive times (your air consumption determines your dive time, not our operation).
*equipment may be excluded from some specials
Book Now, visit our Dive Site Map or read our Safety Policy