Divemaster Apprenticeship Programme
Receive your training and experience for free - be prepared for a job in the dive industry.
Gain all your PADI certifications including Advanced, Rescue, Equipment Specialist, Night Diver, Deep Diver, Search and Recovery and Emergency Oxygen Provider specialties, Master Scuba Diver and Divemaster, as well as a certificate in first aid and experience operating a dive vessel, maintaining dive equipment and much, much more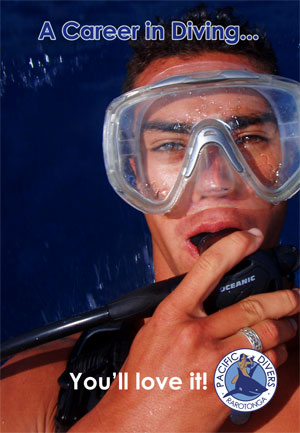 The Pacific Divers Divemaster Apprenticeship (formerly known as an internship) has been developed to give more people the opportunity to engage in Divemaster training with Pacific Divers. We have been running the apprenticeship programme for many years and it is a great way to get yourself started in a career in scuba diving. Pacific Divers is a small but busy PADI 5 star dive centre with good staff and a friendly, fun, family atmosphere, located on the idyllic South Pacific island of Rarotonga, the Cook Islands.
Our Divemaster Apprenticeship now includes 5 PADI specialties plus Master Scuba Diver. We have done this because Divemasters need to demonstrate experience in several diving areas, and there is no better way to acheive this than completing specialties on those areas. It also gives more exposure to dive theory and more time with the instructional staff to improve your diving skills. In short, we want you to get more out of the programme.
Rarotonga is a gorgeous island with white beaches, a beautiful lagoon only 100m away from the Dive Centre and super clear water for diving. Some of our common underwater neighbors include White tip sharks, Eagle rays, Green and Hawksbill turtles, Moray eels and from June to September the migrating Humpback whales, as well as an abundance of tropical fish. On land there is just as much to experience and get involved in, with just enough people to make it interesting and engaging. There are lots of cultural and sporting activities and at Pacific Divers we encourage our staff to get out and make the island home.
No Experience necessary
If you are not already certified come to Pacific Divers and earn your Open Water qualification. From there you can move on to the apprenticeship for the rest of your training. With a team of experienced Instructors on hand to help you throughout your programme you will come away with a wealth of knowledge, information and experience, as well as the confidence to work as a professional member of the scuba community. And as a PADI 5 star Instructor Development Dive Centre you can be assured that you will be learning and experiencing the best diving practices and operations in the industry as recognized by PADI across the wide range of Divemaster duties.
We can start the programme at any time for any individual. The programme takes up to 4 months full time or 6 months part time.
What the apprenticeship includes
Professional instruction from our experienced team of Instructors
Free use of all Pacific Divers rental equipment for the duration of your internship (excluding mask, snorkel and fins)
35 dives not related to courses (approximately 2 - 3 dives a week)
Training in first aid
All the experience you will gain from being part of a small, professional dive operation in a 5 star Dive Centre
Community beach and underwater clean-ups
5 PADI specialty courses
Pacific Divers t-shirt
1 day off a week
Staff BBQ's and good times!
In addition to everything that's included in the Internship Programme, DM Apprentices will also receive the following;
Training in boat operations on the biggest custom-made dive vessel in the Cook Islands
Training in marine safety
Training in compressor usage
Training in equipment maintenance and repairs
Fees and costs
The Divemaster Apprenticeship Programme is an option for completing your internship, while gaining valuable operational experience in the dive centre. You give us your time and we will give you all the courses (there is a fee for the PADI manuals and certification costs) and diving required for courses free of charge. You will also learn how to operate the boat, fill tanks, service equipment and a whole lot more.
You are responsible for the PADI related costs for each course. This includes the manuals and certification costs, and the PADI professional membership fees.
Manual costs are as follows if purchased through us;
Complete set inlcuding Advanced, EFR, Rescue, Equipment Specialist, Night Diver, Deep Diver, Search and Recovery and Emergency Oxygen Provider, Master Scuba Diver and Divemaster for NZ$1110.00
Rescue to Divemaster incl Equipment Specialist, Night Diver, Deep Diver, Search and Recovery and Emergency Oxygen Provider specialties, Master Scuba Diver for NZ$1030.00
Equipment Specialist, Night Diver, Deep Diver, Search and Recovery and Emergency Oxygen Provider specialties, Master Scuba Diver and Divemaster only for NZ$870.00
You can also add specialties for NZ$100 per specialty course.
Once purchased, all manuals and cerification credits remain your property.
Accommodation
Pacific Divers rents a house for the apprenticeship programme. The cost for a bed space in a shared room is $250 per month. There is a limited option of your own room for $435 per month. The house is basic and represents the local market rates for long term rental.
Part time vs Full time
There are two schedules based on either a part time or full time commitment. Full time is suitable for visitors to the Cook Islands who are coming specifically for the internship programme. It runs for 4 months, full time. This is a 6 day per week commitment. The part time option is better suited to Cook Islands residents who may be working at the same time. It involves a 30 hour per week commitment, that's 6 hrs per day, 5 days a week.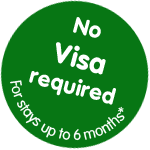 Stay up to 6 months as a bona fide visitor in the Cook Islands
Upon arrival in the Cook Islands visitors of all nationalities are granted a 1 month entry permit. Upon application to the Department of Immigration bona fide visitors not seeking work can stay up to a maximum of 6 months. The fee for this extension is currently $120. You make this application once you are in the country, so there is no need to pre-apply. A requirement for entry as a visitor is proof of onwards travel, so you do need to have your ticket out of the Cook Islands booked before you come.
Other costs
The other costs to you for attending the programme is your accommodation, personal expenses such as food, communications, transport and entertainment and the Cook Islands Immigration fee (nz$120).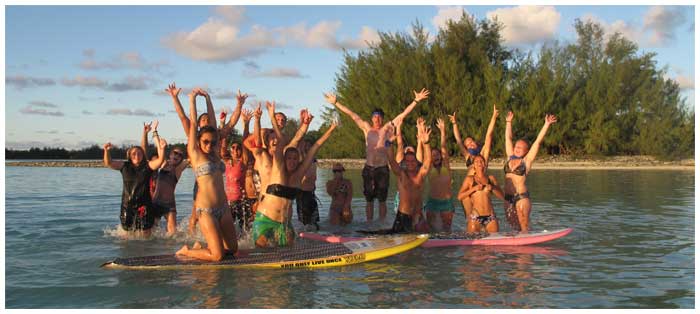 Who we accept on the apprenticeship programme
We are looking for dynamic people to join our professional team who are hard-working, enthusiastic and keen to learn as much as they can about the exciting world of scuba diving, although still easy-going and enjoy relaxed island living. At Pacific Divers we are very flexible and aim to incorporate your existing skills and interests in to your internship programme, whilst ensuring that you receive the highest standard of training so that you leave us as a highly qualified, experienced and confident Divemaster.
Once qualified as a PADI professional Divemaster you will find a whole world of opportunities will open up to you. Not only will you have a new and exciting qualification, but you will now be able to gain paid employment in any country all over the world as a PADI professional. In addition to this, you will have the full support of PADI, the world's most recognized diving association.
If you are choosing a career in diving, your next step is the PADI Instructor Development Course and Instructor Exam. Visit our IDC page here for more information about completing an ADC with your apprenticeship.
How to apply
Applications for the Divemaster Apprenticeship programme are competitive. We get many more applications than we are able to accept. Even if you are not successful with your application you can still come and complete the Divemaster Internship Programme in your own time frame.
The first step is to register your interest by creating a booking online. Once we see the booking come through we will send you the application form. Don't worry, no charges are made on your credit card until you have been accepted onto the programme, and agree to take part.
Once you have accepted our offer and your dates are confirmed we will charge your credit card the fee indicated at the time of booking. This fee is non refundable should you decide not to take part.