PADI Discover Scuba Diving
A great experience and a great gift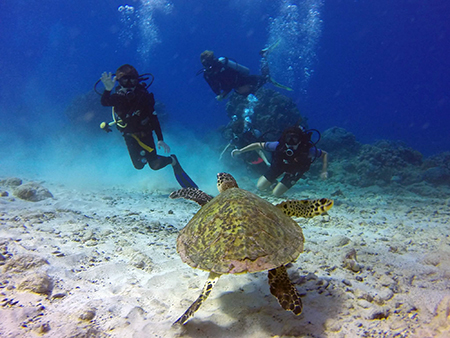 Discover the underwater world of Rarotonga with a half day dive excursion for absolute beginners. The Discover Scuba Diving programme is especially for people that want to try scuba for the very first time. See coral gardens, beautiful reef fish and glide through the water with ease.
Taking your first breaths underwater is a fascinating feeling. As you breathe and become relaxed you'll be surprised just how easy it is! In the confined water you will learn how to use scuba. You will be taught the diving basics, enough to be able to dive safely and confidently under the supervision of your instructor. All the time needed will be taken to ensure you're comfortable with the equipment and the basic skills before moving on.
Once you are comfortable using scuba we head out on our dive vessel. The boat trip is quite short, never more than 5 minutes. Rarotonga's fringing reef provides a host of beautiful dive sites with coral terrain, colourful fish life and clear blue water all in easy reach of the harbour. As you begin your dive with your instructor you'll be in awe of the environment surrounding you. Colourful tropical fish are everywhere, indifferent to your presence. You will weightlessly glide over the reef and become part of the underwater world.
Throughout your diving experience your safety is managed by a qualified and professional dive instructor. Groups are small, a maximum of 4 students per instructor, so you always have someone watching out for you.
At Pacific Divers we have had great success with the Discover Scuba Diving programme. Many people have had their first underwater experience with us and for many it was the experience of a lifetime. If you have ever dreamt about diving beneath the sea, your experience with us is likely to be very satisfying indeed.
Give a Discover Scuba Experience as a gift. Contact us and we will send you a voucher you can print off.
Have a spouse or friend thats already a diver?
We can offer Discover Scuba Diving sessions in conjunction with our regular dive trips so an experienced diver can enjoy a 2 dive trip, the second dive being with you! While you are doing the theory and skill session your buddy will complete the first dive of the two dive trip and you will join the boat for the second dive. It's that easy!
PADI Discover Scuba Lagoon Dives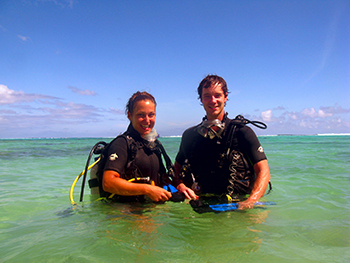 Rarotonga has a great lagoon for snorkelling and swimming, but it's also great for trying out scuba too. The lagoon is no deeper than 3 metres but offers some great fishlife and coral gardens, particulary out nearer the reef.
A Lagoon dive is a two hour excursion that takes you for a guided tour of the Tikioki lagoon Marine Reserve. Its a basic introduction to scuba that focuses more on enjoying the environment than on diving skills. Its great for kids and families and is fully supervised by a PADI Instructor.