About us
Pacific Divers is located on the South East side of Rarotonga, in the popular Muri Beach area. We are on the main road, inland side, opposite Manea Beach, The Flame Tree Restaurant and Murimart 6 11 store. We are about 300m from Pacific Resort and 800m from Vara's backpackers.
If you want to fly to Pacific Divers on Google Earth copy and past the following coordinates into the search field and press search. 21 15'10.78"S 159 43'50.38"W
The team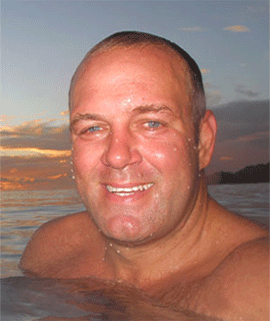 Stephen Lyon - Business owner and manager. A PADI instructor for over 20 years and a diver since 1986, Stephen is the most experienced diver working in the Cook Islands. A qualified marine scientist, Steve has conducted numerous research projects in the Cook Islands.
Steve brings a strong sense of conservation to the operation. In 2009 he established the Pacific islands Conservation Initiative, a Cook Islands based charitable trust that conducts several projects in conservation and environmental matters. You can visit the organisations website www.picionline.org
'I absolutely love diving, just being under water. It's an activity that I enjoy sharing with others and operating this dive centre gives me a great sense of satisfaction. I love to see the joy on the face of new divers as they come to the surface after their first underwater experience.'
Steve has a family of 2 beautiful daughers who are loving growning up near the ocean.
If you need to contact Steve directly his email is dive@pacificdivers.co.ck
Ben Vakatini – Senior Instructor. Ben was born in Dunedin, New Zealand and now lives permanently in his ethnic home of the Cook Islands. He learnt to dive during 2014 after having bumped into his now "Boss" on ANZAC day. He was given the opportunity to become the only current Cook Island diver in Rarotonga, he took it!
Ben showed a real aptitude for diving from the start, and went from not having dived at all, to becoming a certified PADI instructor and 500 logged dives, all in 1 year. Prior to joining the Pacific Divers team he was travelling for 2 years through Europe, being based in London & Liverpool. His last real job was in the New Zealand Army for 4 years, where he dug holes and ate ration packs - But in all seriousness learnt a high level of professionalism and discipline.
"Diving was the last job I ever imagined doing, but having been involved with all the customers we've had through here it's all made sense. It's a job that's so rewarding, seeing students overcome challenges, peoples reactions after their Discover Scuba Experience, and even the older more experienced divers feeling as if it was their first"
To contact Ben at work email team@pacificdivers.co.ck